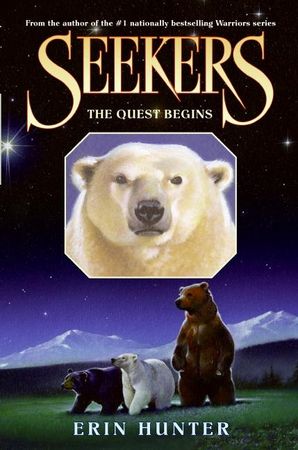 Read an excerpt
Seekers #1: The Quest Begins
By Erin Hunter
Description
The first book in a thrilling animal fantasy series following the epic journey of three bears, from the #1 nationally bestselling author of Warriors.
When three young bears from different species—black, polar, and grizzly—are separated from their families, fate brings them together on a path that will change their lives forever. Along the way, they will face great danger, terrible tragedies, new landscapes, and situations that require all their ingenuity to survive.
For fans of Warriors, Survivors, and animal fantasy series like Wings of Fire and Foxcraft, Seekers is a sweeping and incredible journey through the beautiful, dangerous world of wild bears.
Details
Imprint: HarperCollins
Format: Hardcover
On Sale: 05/27/2008
ISBN: 9780060871222
ISBN10: 0060871229
Pages: 320
Trimsize: 8.250 x 5.500 in
Subcategory:
JUVENILE FICTION / Fantasy & Magic
JUVENILE FICTION / Action & Adventure / General
JUVENILE FICTION / Animals / Bears
More Seekers
Something went wrong: An error occurred during execution; please try again later.