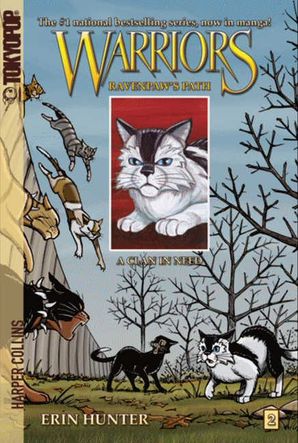 Read an excerpt
Warriors Manga: Ravenpaw's Path #2: A Clan in Need
By Erin Hunter
Other Formats
Description
A manga adventure from the world of Erin Hunter's #1 nationally bestselling Warriors series!
In the second book of the Ravenpaw's Path manga arc, find out what happened to Ravenpaw after he left ThunderClan in Warriors #1: Into the Wild.
Ravenpaw and Barley have been driven away from their farm by a group of vicious cats. Now the two loners must turn to ThunderClan—led by Ravenpaw's friend Firestar—for shelter. Firestar takes them in and promises to help them take back their home as soon as possible, but ThunderClan is in great danger. BloodClan cats have been launching raids on ThunderClan's territory and attacking Clan patrols. Can Ravenpaw and Barley help Firestar and his Clan fight off their enemies? And will they ever be able to get home again?
Details
Imprint: HarperCollins
Format: Paperback
On Sale: 03/23/2010
ISBN: 9780061688669
ISBN10: 0061688665
Pages: 112
Trimsize: 7.430 x 5.000 in
Subcategory:
JUVENILE FICTION / Comics & Graphic Novels / Manga